Terrazzo tiles can shine in almost any place that can project glamour and beauty. Thanks to its flexibility, versatility, and multiple colors options, you can lay your terrazzo tiles to create any design as your instincts dictate. Practically, there are no boundaries to where you install these unique tiles and what magic you can make with them.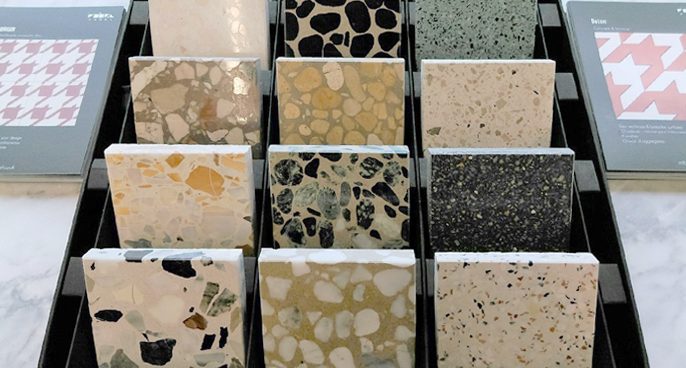 But, it is somewhat surprising that terrazzo tiles are more common in certain places than others despite their versatility. Hence, I am writing this article to expand the reach of terrazzo tiles by suggesting several places where they can be your best flooring option.
Generally, I have discovered that most people prefer to use terrazzo tiles in commercial spaces—some categorized terrazzo tiles as 'commercial-only flooring materials. If you check around closets places, you will discover that terrazzo tiles rea not very common in residential areas. Click here to learn about 7 Steps on How to Lay Terrazzo Floor Tiles – A Complete Step-By-Step Guide.
To change that mindset, here are five unique places where you can install terrazzo tiles that will earn you several comforting commendations from anyone that visits.
5 Places to Install Terrazzo Tiles
1. Office buildings
As we earlier discussed, terrazzo tiles rea very good in commercial places. Though the tiles are already the first choice in commercial spaces yet, I need to recommend them more.
Terrazzo tiles have the magic to draw people to a place that commercial spaces need the most. A typical office building is a space that many people of different classes walk in and out of every minute. And, the first impression they say lasts longer.
You will agree with me that every business space needs the proper packaging to improve its image in the public's eyes. And good business image, in return, promotes brand credibility and increases revenue generation. So, if there is a space that needs the classic, luxury look of terrazzo tiles, it's office buildings.
Meanwhile, I am not recommending terrazzo tiles commercial spaces because of their durability. Instead, it's because they can withstand stains and heavy foot traffic. More so, they allow customization and can perfectly match brand colors. They are straightforward to use and maintain. Your surface cleaning routine is enough to keep them in their shining-looking state for years.
2. Airports
Because of some of the reasons discussed above, it is great to install terrazzo tiles in airports. The airport is one of the places that receive people that belong to the highest class in society. As a result, it would not be fair enough to use the classic terrazzo tiles both on the wall and floor of the building.
Terrazzo is a kind of flooring material that can vividly display the words of directions that guide passengers at the airport to locate every vital place in the building, including the security posts, terminals and more.
Additionally, airlines might take advantage of terrazzo tiles to customize the flooring to match the brand's colour. For some airlines, their colour is their unique selling point.
Above all, one of the benefits terrazzo tiles can offer an airport is the low-cost maintenance and unmatched durability. Don't forget that airport is another place that records massive traffic every minute. So, the commercial area needs flooring that can prevent them from shutting for maintenance and repairs sake. It can amount to huge losses.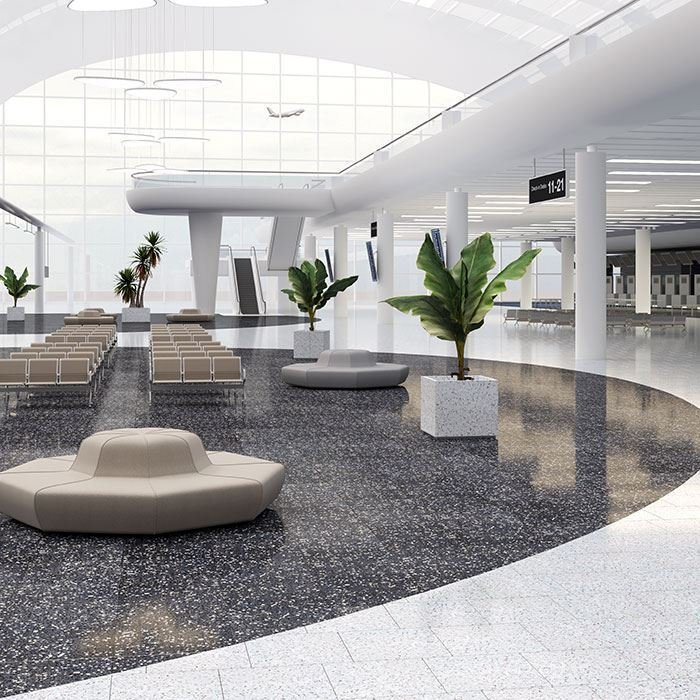 3. Hospitals
Terrazzo is the best option for hospital flooring. In reality, no other type of tiles comes close to terrazzo in this setting. Are you still confused? Allow me to elaborate.
Terrazzo tiles are naturally antimicrobial. Do you know what that means? It does not allow absorbent holes that can later become a haven of bacteria. Instead, it provides a healthy, safe and clean environment for patients and staff. What else do you think will be ideal for hospital flooring? Terrazzo!
Not only that, terrazzo tiles come with a surface that is easy to clean and disinfect. As a result, the cleaners will be glad to do routine work with optimum happiness and finish up in no time.
Furthermore, the smooth, fine surface of terrazzo tiles makes is helpful for wheeling patients and drugs from one ward to another, which could save many lives in case of emergency.
In similarity to airports, hospitals also need to customize their flooring to add some necessary descriptions to guide first-time visitors. As an expert, I have worked with different types of tiles. But I have come to realize that Hospitals cannot have better flooring except terrazzo tiles.
4. Homes
Remember that we mentioned at the beginning of this article that terrazzo tiles are less used in residential spaces. However, in luxury homes, terrazzo tiles are what they use to create impressive countertops and exterior living areas such as gardens.
Terrazzo tiles are the best flooring options for every home garden. Whether you think of lining a patio or creating a customized firepit, or even a unique outdoor kitchen countertop, you can trust terrazzo tiles with an outstanding level of unequaled customization and glamour.
With all the creativity that terrazzo offers homeowners, it is rather pathetic that many of them still don't consider terrazzo tiles their number one option for flooring.
Terrazzo remains the best material you can use to create impressive designs in your entryway with terrazzo flooring. More than that, it is suitable for remodeling an ample open space, where you can use colors to create magic. Terrazzo is best for residential flooring because of its unmatched longevity. Visit https://tileandbathco.com.au/collections/herringbone-tiles to read more about Herringbone tiles and Terrazzo tiles in your City.
5. Schools
Many schools have been ignoring the efficacy of terrazzo tiles on their floors. Perhaps it is because they think it is too expensive for a school flooring. If you look around, you will discover that most of the schools you know use something else for their flooring – except for luxury schools.
On the contrary, schools are among the commercial places that need terrazzo flooring the most due to their stain-resistant capacity. Students can be amusing during their stay in school. Most times, it is their usual practice to leave things untidy without proper care.
Indeed, installing terrazzo tiles in a school will save the management the stress and expenses involved in constant deep cleaning and renovations.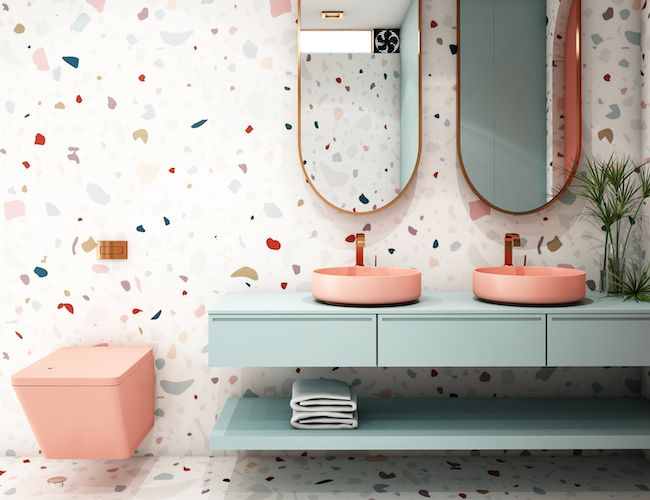 Finally
Terrazzo tiles can be a good option for different kinds of spaces, whether residential or commercial. Feel free to explore these tiles' fantastic versatility and creativity to bring out the beauty and glamour anywhere you want it. You also need to know that terrazzo leads when it comes to maintenance, making it fir for any place whatsoever.